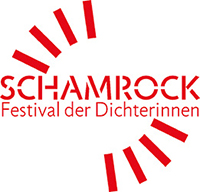 Internationale Poetry-Biennale - Filmfestival - Salon - Netzwerk
Sonntag, 6. November, 15 Uhr
---
Kholoud Charaf
(Syrien / Syria)
Kholoud Charaf ist eine syrische Dichterin, Kunstkritikerin, Publizistin und Aktivistin. Sie setzte sich besonders für die Lebensbedingungen von Frauen und Kindern im vom Bürgerkrieg zerrütteten Syrien ein und war wiederholt von Zensur bedroht.
Sie hat bisher vier Bücher veröffentlicht, darunter den Gedichtband The Remains of the Butterfly, in dem sie sich lyrisch mit dem Krieg in Syrien und dem Leben "zwischen Verlust und Hoffnung" auseinandersetzt. Ihre Gedichte wurden bislang in insgesamt zehn Sprachen übersetzt.
2011 veröffentlichte Kholoud Charaf eine wissenschaftliche Arbeit über syrische Gegenwartspoesie. Für ihre Reportage Journey of the Return to the Mountain: A Journal in the Shadow of War erhielt sie den marokkanischen Muhammad Ibn Battuta Prize für Reiseschriftstellerei 2019.
Seit September 2020 ist sie Stipendiatin des Writers-in-Exile-Programms.
Kholoud Charaf is a Syrian poet, art critic, publicist and activist. She is particularly committed to the living conditions of women and children in civil war-torn Syria and has repeatedly been threatened by censorship.
She has published four books to date, including the poetry collection The Remains of the Butterfly, in which she lyrically explores the war in Syria and life "between loss and hope". Her poems have so far been translated into ten languages.
In 2011, Kholoud Charaf published an academic work on contemporary Syrian poetry. She received the 2019 Moroccan Muhammad Ibn Battuta Travel Writing Award for her report Journey of the Return to the Mountain: A Journal in the Shadow of War.
Since September 2020 she has been a fellow of the Writers in Exile program.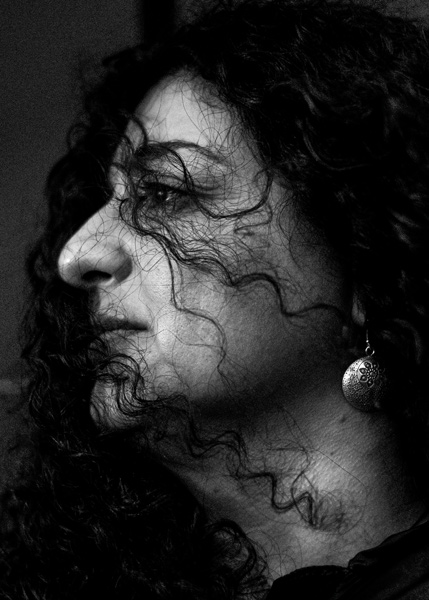 Blessings from Ishtar
My creation, Kanatha -
Bathe your feet in light
And come
Lay your braids on a loom-woven pillow
Let your lips enfold the grape
Intoxicating you
When the harvest is done.
Do not kiss the moon
That moves over your slumbering cheek
And don't forget fresh hay for the goat
So she won't forget the milk  
O bare branches,
There is a skilful thief
Upon the swelling bud  
Your first desire
Poured forth water -  
A sacrifice craved by the God of Love  
You were always like me
Tenderness lying on marble
So, sleep in peace
And as soon as the God of War sleeps, I will wake you  
Don't forget how you were, in front of the mirror
Naked
Stumbling over your own beauty  
I am afraid for you, of your own hand  
Revealing your landscape in flames
I will not let the dream stranger knock at your gate
And so, sleep, Kanatha
Perhaps, one day, you will wake up wine-soaked  
And I will tell you
What these sacrifices have done.
A new dawn is creeping
From your mirror
Don't lose  
Your sacred face
translated by Leri Price
From the book Reversed Sky

هدية من عشتار
 بنيتي (كاناثا)
اغسلي قدميكِ بالنورِ
وتعالي.
أَريحي جديلتَك على وسادةِ النَّولِ
ضُمّي شفتيكِ على العنبِ
ليتخمرَ
ريثما انتهي من الحصاد.
لا تقبّلي القمرَ
إن مرّ على خدكِ ناعساً
ولا تَنسَي العُشْبَ الطريَّ للماعزِ
كي لا ينسى الحليب.
يا عاريةَ الأغصانِ
ثمَّةَ من يجيدُ التلصُّصَ
على الحلماتِ النافرة.
رَغبتُكِ الأولى
تُسيلُ ماءَكَ
قٌرباناً يشتهيهِ إلهُ الحبّ.
لطالما كنتِ منّي
طريةً فوقَ الرخامِ
فنامي هنيئاً
وما إن ينامَ إلهُ الحربِ أوقِظكِ.
لا تَنسَي نفسكِ أمامَ المرآةِ
عارية
فتتعثرُ خُطاكِ بجمالكِ
أخشى عليكِ من يدكِ
أن تكتشفَ تضاريسكَ اللاهبة
لن أدعَ بابكِ يدقُّ لغريبِ الحُلمِ.
فنامي (كاناثا)
قد تستيقظينَ يوماً خَمراً
فأبوحُ لكِ
بما فعلتهُ القرابينُ
ثمّة غدٌ يتسلّلُ
من مرآتكِ
لا تضيعيهِ
وجهَكِ المقدس.
Riddles
Around the shoes  
Rebuilding homes of warmth -
A bomb
Around a house  
gathering blocks of childhood brick by brick-
escape
The world gets lost
But the astrologer can find it
misunderstood Death is its conflict and its riddle
Who does the poem belong to?
We are found by water
And the earth is ours
All this earth is ours –  
Fire is only for its bearers
The sky is still flowered
Life still carries poets
On the back of the olive tree  
To burn it at the first frost
Whose is the earth
And who are we
Coming from water
Water is ours
So is love
And the poetry within us grows in power
We are like you
We have a yesterday trodden by memory
We use it to arrange the stories of past nights
And while we wait for life we dig up cactus q
We are like you
We name our names in the cracks of our homes
We lowered a pillow onto the moon
On our bed so we could dream
We are
Like you
But the flood
Scaled the bowers of our dreams
We are still waiting
For an olive branch
And a dove
We are like you
We have a homeland
But it is resistant
To clarification
أحاجٍ
حولَ أحذية
- تُعمِّرُ بيوتَ الدفءِ-
قذيفة.
حولَ بيت
- لملَمَ مكعَّباتِ الطفولةِ حجراً حجراً-
هروب.
والعالمُ يضيعُ
غيرَ أنَّ مُنجِّماً يستطيعُ أن يجدَه
فالموتُ غيرُ مفهومٍ نزاعُهُ وأحاجيه.
لِمَنِ القصيدة؟
وُجِدنا من ماءٍ
فالأرضُ لنا
كلُّ هذي الأرضُ لنا
وما النارُ سوى لحاملِيها
وما زالتِ السماءُ مُزهرةً
وما زالتِ الحياةُ تحملُ الشعراءَ
على كاهلِ زيتونٍ
لتحرقَهُ عندَ أولِ بُزوغِ الجليد.
هذي الأرضُ لِمَن؟
ومَن نحنُ؟
مِن ماءٍ
ولنا الماءُ
والحبُّ لنا
والشعرُ عِندنا قوت.
نحنُ مِثلكُم
لنا أمس على مداسِ الذاكرة
نرتِّبُ بهِ حكاياتِ الليلِ
وننتظرُ الحياةَ بحرفَةِ الصُبَّار.
نحنُ مِثلكُم
نُسمّي أسماءَنا في شقوقِ البيوتِ
ونُرخِي للقمرِ وسادةً
على سريرِنا كي نَحلُم.
نحنُ
مِثلكُم
إلا أنَّ الطوفانَ
تسلَّقَ عرائشَ أحلامِنا
وما زلنا ننتظرُ
غصنَ زيتونٍ
وطوقَ حمام.
نحن مثلكم
لنا وطنٌ
إلا أنه عصيٌّ
عن التوضيح.
---------- ------------- -------------- ------------------------- ----------- ----------------