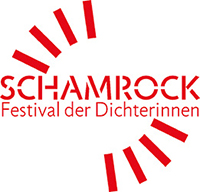 Internationale Poetry-Biennale - Filmfestival - Salon - Netzwerk
---
... our poets remind me of the canaries in the ancient cole mines warning from desasters ... Oksana Sabuschko, Helyna Krug, Miriam Dragina, Marianna Kianowska, they all have written about the war before the war had started ...
Iryna Tsilyk, Schamrock-Festival of Women Poets 2018
2018 waren die ukrainischen Dichterinnen Kateryna Kalytko, Oksana Sabuschko und Iryna Tsilyk Gast der Internationalen Poetry Biennale - Schamrock-Festival der Dichterinnen in München, zu einem Ukraine Länderschwerpunkt. Ihre Beiträge waren geprägt von dem seit 2014 von russischer Seite begonnen Krieg an der Krim, ebenso wie der Focus auf Georgien mit Bela Chekurishvili und Eka Kevanishvili.
⇒ Video der Lesungen von 2018 und ein Ausschnitt des anschließenden Panels
⇒ Länderschwerpunkt Ukraine Schamrock-Festival 2018
⇒ Länderschwerpunkt Georgien Schamrock-Festival 2018
Leider haben ihre Texte und Gesprächsbeiträge nichts an Aktualität eingebüßt, im Gegenteil. Der barbarische russische Angriffskrieg macht uns fassungslos, wütend und traurig. Wir freuen uns sehr, dass Iryna Tsylik wieder an unserem Schwerpunkt zur Ukraine teilnehmen kann und hoffen sehr, dass unsere andern Dichterinnen, ihre Angehörigen und Freunde in Sicherheit sind, und die Aggression der Invasoren dem ukrainischen Volk möglichst wenig Opfer abverlangt, jedes verlorene Leben in diesem sinnlosen Konflikt ist eines zuviel.
In 2018, the Ukrainian poets Kateryna Kalytko, Oksana Sabuschko and Iryna Tsilyk were guests focus on Ukraine of the International Poetry Biennale - Schamrock Festival of Female Poets in Munich. THeir contributions were shaped by the war in Crimea, which Russia had started in 2014, as well as the focus on Georgia with Bela Chekurishvili and Eka Kevanishvili.
⇒ Video of the readings and a section of the subsequent panel
⇒ Länderschwerpunkt Ukraine Schamrock-Festival 2018
⇒ Länderschwerpunkt Georgien Schamrock-Festival 2018
Unfortunately, their texts and contributions to discussions have lost none of their topicality, on the contrary. The barbaric Russian war of aggression leaves us stunned, angry and sad. We are very happy that Iryna Tsylik can participate again in our focus on Ukraine and we very much hope that our other poets, their families and friends are safe and that the aggression of the invaders causes as few victims as possible of the Ukrainian people, every life lost in this senseless conflict is one too many.
Verena Nolte arbeitet als Übersetzerin, Redakteurin und Autorin, und publizierte Erzählungen, Novellen und Essays in Zeitungen, Zeitschriften, Anthologien, Katalogen und beim Rundfunk. 2020 erschien ihr Buch Der Milchkrug im Folio Verlag. Sie leitete sieben Jahre lang das Künstlerhaus Villa Waldberta der Stadt München.
2011 gründete sie die gemeinnützige Gesellschaft Kulturallmende. Als deren Leiterin führt sie internationale Kunst- und Literaturprojekte im In- und Ausland durch. Seit 2015 veranstaltet sie Eine Brücke aus Papier – Ukrainisch-Deutsche Schriftstellertreffen in der Ukraine und in Deutschland.
Margarita Grinko, *in Sumy, Ukraine, zog 2001 mit ihrer Familie nach Deutschland. Seit 2019 wissenschaftliche Mitarbeiterin an der Universität Siegen (Wirtschaftsinformatik und Neue Medien) und freiberufliche Übersetzerin Ukrainisch-Deutsch. Übersetzungen u.a. Sammelband Der Zweite Weltkrieg in der Ukraine. Geschichte und Lebensgeschichten von Vakhtang Kipiani, ibidem Verlag 2021; Sammelband Der Krieg kommt
ohne Einladung – Ukrainische Tagebücher (mit Oksana Stomina), Mariupol 2018. Co-Organisatorin und Übersetzerin auf der Kunstausstellung Art@War in der Galerie K42, Siegen 2018.
Verena Nolte is a translator, editor and author, and has published short stories, novellas and essays in newspapers, magazines, anthologies, catalogs and on the radio. In 2020 her book Der Milchkrug was published by Folio Verlag. For seven years she managed the artist house Villa Waldberta in the city of Munich.
In 2011 she founded the non-profit company Kulturallmende. As its director, she carries out international art and literature projects in Germany and abroad. Since 2015 she has been organizing A Paper Bridge – Ukrainian-German Writers' Meetings in Ukraine and Germany.
Margarita Grinko, *in Sumy, Ukraine, moved to Germany with her family in 2001. Since 2019 research assistant at the University of Siegen (business informatics and new media) and Ukrainian-German freelance translator. Translations, e.g. anthology The Second World War in Ukraine. History and life stories of Vakhtang Kipiani, ibidem Verlag 2021; Anthology The War is Coming Uninvited – Ukrainian Diaries (with Oksana Stomina), Mariupol 2018. Co-organizer and translator at the art exhibition Art@War in Gallery K42, Siegen 2018.