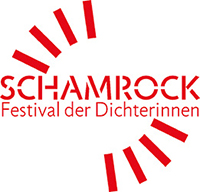 Internationale Poetry-Biennale - Filmfestival - Salon - Netzwerk
___Festival 2016________________________________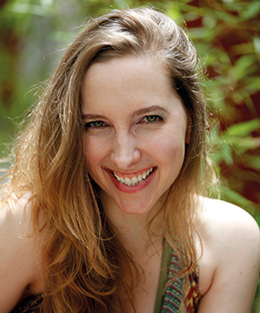 Franziska Ruprecht (D)
Lebt in München. Sie tritt mit ihren Gedichten auf, unterrichtet Performance Poetry und arbeitet mit ihrer Stimme.
Master of Arts in Creative Writing (in Detroit). Ihr Gedichtband "Meer-Maid", erschien 2015 im Wolfbach Verlag.
Auftritte u.a. mit ihren Poetry Songs in den USA und beim Roskilde Musik Festival, Dänemark. Mit "poetry that glitters" beschreibt sie ihren vom Varieté inspirierten Auftrittsstil.
www.franziskaruprecht.de
Freitag / Fr 28.10. - 15 Uhr

Performs her poetry, teaches performance poetry, and works with her voice. She lives in Munich. Master of Arts in Creative Writing (WSU, Detroit). In 2015, Wolfbach Verlag published her collection of poetry, Meer-Maid.
She performs her poetry and poetry songs in Germany, the USA, and for instance at Roskilde Music Festival in Denmark. With "poetry that glitters", she describes her way of performing that is inspired by variety shows.
www.franziskaruprecht.de
Elfe


Mit dem Lockenstab
gehst du über die Zehen deines Vaters
das Herz deiner Mutter drehst du ein
"bisschen" besessen
best- und medizinisch möglich
deinem Bild zu entsprechen.
Tänzelst durch die Bierstadt
an die Käsetheke dann zum
Celloabend mit gekreuzten Beinen
spielst immer nur dein Lied
- "Gegen den Strich" -
So viel Wissen weißt du genau
hältst dich fest "Fee,der" an
Zellen grau mausig
dann doch wieder Glitzerpuder an den Augen
Mein Bewunderer — bist du
Meine Freundin — bist du
Meine Nase — bist du
Meine Brüste — bist du
          Elfen bleiben doch gar nicht
          Boden ständig ich ängstige
                                          mich kringelig:
                                          Wann
                                                                                      du weg schwebst?
Money
You —
my only bank account,
saved your savings
for your first love.
In your eyes this seemed fine: me you already owned.
Walking down the hallways
of a luxury hotel, all that glitters just got stale.
We left together
                    but I walked out.
                                        Without me I am broke
                              spending the nights
                              with Bridget Jones.
Heldin


Niemand kann ihr ein
A für ein U vormachen

Sie kontrolliert
den Gang der Sachen
Rettet was sie kann
vor Verschwendung und Verrotten,
gibt allem neuen Glanz, eine neue Ordnung.
Für sie steht alles stramm,
weil es ohne sie nicht
sauber bleiben kann
An ihrem Gürtel
die Geheimlappen und ein Schwamm
drüber über alles geht sie:
den hechelnden Geldbeutel, die rahmenlosen Tage,
die angestaubten Freudefotos —
schafft Klarheit in Unsicherheit
eine Kappe voll in den Eimer
eine Richtung in der Verzweiflung:
Erst muss jedes Ding sortiert und entstaubt sein.
Sprüh weiter den Kopf leicht!
Bis sie einmal mit allem durch ist
ist alles, was fehlt, einerlei.