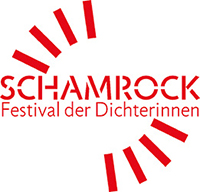 Internationale Poetry-Biennale - Filmfestival - Salon - Netzwerk
___Festival 2016________________________________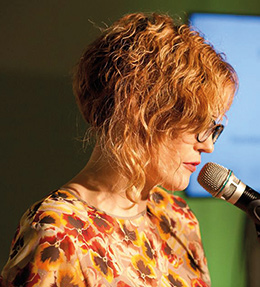 Inga Gaile (Lettland)
*1976, Dichterin, Theaterautorin und -regisseurin.
Sie veröffentlichte bisher fünf Gedichtbände, zuletzt: Migla (Nebel), Riga 2012 und Vai otrā grupa mani dzird? (Hört mich die andere Gruppe?), ausgezeichnet mit dem Lettischen Literaturpreis 2015.
Zwei ihrer Theaterstücke werden derzeit in verschiedenen Theatern gespielt. Sie übersetzte Gedichte russischer Letten ins Lettische.
Ihre Gedichte wurden ins Englische, Deutsche, Schwedische, Litauische und in Bengali übersetzt.
*1976, poet, playwright and theater director.
She is the author of five poetry collections. Latest: Migla (The Fog, Riga 2012) andVai otrā grupa mani dzird? (Does Second Group Hear Me? Latvian Literature Award 2015).
She has also written two plays that are currently being staged in two independent theaters and has translated works of Latvia's Russian poets into Latvian.
Her poems have been translated into English, German, Swedish, Lithuanian, Bengali.
Pilsētas atdzimšana
Tajā dienā visa pilsēta nometās ceļos:
Maskavas, Jersikas, Ebreju, Līksnas, Kijevas, Jēkabpils, Lāčplēša ielās,
Virsaišu, Lauvas, Lielā un Mazā kalna, noliektām galvām Rumbulas mežā.
Tajā dienā visa pilsēta nometās ceļos,
gan tie, kas bija bijuši sargi, gan tie, kas vēl nemācēja izteikt burtu "g" vai uzzīmēt dzeltenu zvaigzni,
un bērni viņu, un mazbērni, mazmazbērni, lauks cilvēku noliektām galvām, palikt par augsni pilsētai jaunai, kas neaizmirstu nekad,
kas ietu pa viņu pēdām,
kas lūgtu debesis piedot,
šo ilgstošo klusēšanu, šo neskatīšanos sejā, šo steigšanos vienkārši garām
pilsētā, kurā joprojām ik dienas cilvēku ēnas ar krāsainām zvaigznēm pierēs neiet pa ietvi.
Un es jautāju vecmāmiņ, draudziņ, kā jūs gulējāt kopā ar opi tais novembra, decembra naktīs, sabijušies no kara, kailiem kokiem sitot pie logiem, apskāvušies, lai siltāk?
Kā mēs gulējām visās šais naktīs pēc tam?
Mēs esam maza tauta. Nudien. Drebošo balsi par liesmu ceļam un dziedam.
Man ir viens draugs, kuram nav puses smadzeņu pēc tam kad piedzēries autovadītājs viņu atstāja nomirt. Bet viņš izdzīvoja. Un redzi, šis draugs slikti runā – viņš dzied. Un ar mums visiem ir gluži tāpat. Mēs dziedam. Kas ir notriecis mūs?
Tajā dienā pilsēta nometās ceļos un trīcošs kā rudens lapa cēlās pret debesīm lūgums:
piedodiet mums, kas skatījās garām, kas šāva, kas sakārtoja jūs rindās, kas teica bērniem, lai skatās uz citu pusi, kas ļāva jums iet pa kloāku, kas pateicās Dievam par to, ka ir piedzimis gaišu ādu un matiem, piedodiet mums, kas nenesa maizi, kas neuzšuva paši sev dzeltenas zvaigznes, kas nepieteicās partizānos, lai rīkotu sazvērestību, piedodiet mums, kas nebija žanis, elvīra, anna, kas nebija neviens no tiem 270 citiem. Mēs esam vēl mazāka tauta nekā līdz šim mums ir licies. Tajā dienā, kad pilsēta nometās ceļos un drebošā balsī pret debesīm kāpa vēl pat ne vārdi, vien čuksti, tajā dienā pilsētas dzīlēs lēni atsāka pukstēt tās sirds.
Un vēl pēc 700 gadiem, pilsētā atgriezās putni. Paskaties savā aifonā. Šodien ir tieši tā diena.
Rebirth of the City
On that day, the entire city went down on its knees:
On Maskavas, Jersikas, Ebreju, Līksnas, Kijevas, Jēkabpils, Lāčplēša Streets,
Virsaišu, Lauvas, Lielā and Mazā kalna Streets, and heads were bent in Rumbula Forest.
On that day, the entire city went down on its knees,
both those who had been guards and those who could not pronounce "g" or draw a yellow star,
and their children and grandchildren, and great grandchildren, a field of people with heads bent
in order to become the foundation for a new city that would never forget,
that would walk in their footsteps,
that would ask the heaven to forgive
this prolonged silence, not looking in the eye, this rushing past
in a city in which every day shades of people with colored stars on their foreheads do not walk on the sidewalks.
And I asked, grandma, honey, how could you sleep, you and grandpa, on those nights in November and in December, scared of the war, naked trees knocking on windows, embracing each other to keep warm?
How could we sleep on all these nights since?
We are a small nation. Indeed. Our shaky voice is our flame and we sing.
I have a friend who has only half a brain after a drunk driver left him to die. But he lived. And this friend has problems speaking – he sings. And that's how it is with us. We sing. Who ran us over?
On that day, the city went down on its knees and a plea, quivering like an autumn leaf, floated up to the heaven:
forgive us who looked aside, who shot, who arranged you in rows, who told children to look elsewhere, who let you walk in the gutter, who thanked God for having been born light-skinned and blond, forgive us who did not bring you bread, who did not sew on yellow stars ourselves, who did not enlist in the partisans to hatch out a conspiracy, forgive us who were not žanis, elvīra, anna, who was not among those 270 others. We are an even smaller nation than we thought up to now.
On that day, when the city went down on its knees and not even words, trembling whispers went up to the heaven; on that day, deep down inside the city, its heart slowly resumed beating.
And after 700 years, birds came back to the city.
Look in your i-phone. Today is that day.
Die Wiedergeburt der Stadt
An dem Tag warf sich die ganze Stadt auf die Knie
In den Straßen – Maskavas, Jersikas, Ebreju, Līksnas, Kijevas, Jēkabpils, Lāčplēša,
Virsaišu, Lauvas, Lielā und Mazā kalna mit gesenkten Häuptern im Wald vor Rumbula
An dem Tag warf sich die ganze Stadt auf die Knie
Jene, die Wächter waren, aber auch die, die das "J" noch nicht aussprechen, oder einen gelben Stern malen konnten,
ihre Kinder und Enkel, Urenkel, ein Feld voller Menschen mit gesenkten Köpfen werden zum Humus für eine neue Stadt, die nicht vergisst
die in ihren Fußspuren geht
um Vergebung würde sie bitten den Himmel
dieses lange Schweigen, dieses nicht in die Augen Schaun, dieses pure Eilen
in dieser Stadt, wo noch jeden Tag die Schatten mit bunten Sternen auf der Stirn neben den Bürgersteigen einher gehen.
Ich frage Großmutter: Meine Liebe, wie hast du neben Großvater geschlafen in diesen November-, Dezembernächten,
voller Kriegsangst, einander umschlungen, dass es wärmer wird, wenn die Äste rindenloser Bäume an die Fenster schlagen?
Und in all den Nächten danach, wie haben wir geschlafen?
Wir sind ein kleines Volk. Jawohl. Wir erheben die zitternde Stimme zu einer einzigen Flamme und singen.
Ich habe einen Freund, der die Hälfte seines Kopfes verlor, als ein betrunkener Autofahrer ihn im Sterben alleinließ. Aber er überlebte. Siehe – dieser Freund kann kaum mehr sprechen – er singt. Und mit uns anderen ist es genau so. Wir singen. Wer hat uns angefahren?
An diesem Tag warf sich die Stadt auf die Knie und zitternd wie Herbstlaub erhob sich zum Himmel die Bitte:
Verzeiht uns, die wir wegschauten, die wir auch schossen, die wir euch in langen Reihen aufstellten, die wir den Kindern sagten: schaut weg, die wir euch in die Kloake schickten, und Gott dankten, dass er mit heller Haut und blonden Haaren geboren wurde, verzeiht uns, die wir kein Brot brachten, die wir keinen gelben Stern aufnähten, die wir nicht zu den Partisanen gingen, um den Aufstand zu organisieren, die wir nicht Zanis, Elvira, Anna waren, die wir keiner der 270 anderen waren. Wir sind ein noch kleineres Volk, als es uns vorher schon schien. Am Tag, als sich die Stadt auf die Knie warf und von zitternder Stimme noch nicht einmal Worte in den Himmel stiegen, nur ein Flüstern, an diesem Tag, als im Innern der Stadt das Herz zu pochen begann.
Und nach 700 Jahren kehren Vögel zurück in die Stadt. Schau auf dein iPhone. Heute, genau heute ist dieser Tag.
Überstzung: Jan Kuhlbrodt
Vienkārši tā,
vienkārši paguli līdzās,
paguli līdzās man –
gribu dzirdēt, ka esam dzīvi,
sirdī tavā, kas dun kā krāsotāju smiekli, dobji un divdomīgi,
viņi krāso bibliotēku.
Tā, redz, ir ar to mīlestību,
pēkšņi viss, kas ir tev apkārt
kļūst par metaforu
kaut kam,
kaut kam,
ko var sadzirdēt,
piespiežot savu kailo augumu tavam.
Visa istaba pilna zelta putekšņu,
kā vispār iespējams neticēt Svētajam Garam?
Aus: "Werde zum Gespenst. Gedichte aus Lettland", Poesie der Nachbarn Bd. 28, Verlag Das Wunderhorn (2016)
Ach,
ach leg dich für einen Moment neben mich,
lieg neben mir –
Ich will hören, dass wir am Leben sind,
von deinem Herzen, das tief und doppeldeutig schlägt
wie das Lachen der Anstreicher,
die die Bibliotheken beschmieren.
Schau, so ist es mit der Liebe,
plötzlich wird alles um dich herum
zur Metapher
für etwas,
für etwas,
das man hören kann,
wenn man seinen nackten Körper an deinen drückt.
Das ganze Zimmer ist gefüllt mit goldenen Pollen,
wie ist ein Leben ohne den heiligen Geist überhaupt möglich?
Übersetzung: Claudia Gabler