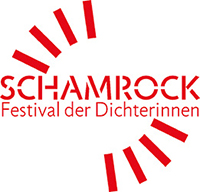 Internationale Poetry-Biennale - Filmfestival - Salon - Netzwerk
___Festival 2018________Europe_Inside_/_Outside________Wien 24_10 | München 26-28_10
Odile Cornuz
(französische Schweiz)
Sonntag, 28. Oktober, 14 Uhr
whiteBOX München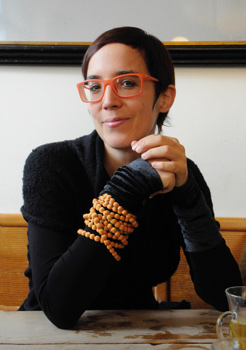 Odile Cornuz schloss 2014 ihr Literaturstudium mit einer Promotion ab, und folgt weiterhin ihrer literarische Neugier.
2018 veröffentlichte sie Ma ralentie, 2014 Pourquoi veux-tu que ça rime? bei d'autre part, Genf. Sie schreibt Radio Features und für das Theater und bevorzugt bei ihren Lesungen musikalisch Begleitung. Sie lebt in Lausanne.
Odile Cornuz obtained her Ph.D. in Literature in 2014, and still pursues her literary curiosity.
She published Ma ralentie in 2018 and Pourquoi veux-tu que ça rime? in 2014, d'autre part, Geneva. She also writes for radio and theatre and enjoys the company of musicians, especially for her readings. She lives in Lausanne.
Tirez!
Tirez ! A grenaille bien sentie Visez les couilles
Visez les yeux
Le cœur, la bouche et les oreilles Qu'en plein poitrail ces projectiles Déchirent des entrailles apatrides Coulant, blessées, en des jarrets Jadis aimés.
Visez l'homme qui, dans l'insouciance Du temps des autres et puis de rien Tailla des flûtes en ivoire
Feignant défense des pachydermes
Et féminisme combattant.
Stentor factice dont la queue dresse Salut de soldat mécanique
Que l'homme – à bas
Cuise des abus
Trop insentis.
Verge ici-bas
A tous coins d'rue
Serrant les flops
Salut les cons !
Tremblez d'choper des champignons.
Si vous fûtes bien Sans la charrue
Sans les bœufs même Et sans la vue
Prenez un peu d'perlimpinpin Ouvrez les yeux
Sur tout l'fatras.
C'est pas d'la tarte Ni du latin
C'est tout d'un bloc Gros de chagrin C'est pas du lard Ni du lapin
La peau est douce Malgré l'abcès.
Si t'en veux plus
Si t'en veux moins C'est qu't'a plus d'sang Dedans les mains
T'es hors du corps
Du sien du tien
T'es plus trop là
T'as des yeux d'chien.
Alors vois-tu Ça fait du bien De taper d'ssus A ton chagrin.
Schiesst!
Schiesst! Mit Schrot das trifft
Zielt auf Eier
Zielt auf Augen
Auf Herz, auf Mund, auf Ohren.
Mitten in der Brust sollen die Geschosse Staatenlose Därme zerfetzen
Und verletzt über Kniekehlen strömen, Den einst geliebten.
Zielt auf den Menschen, der sorglos
Über die Zeit der andern und auch über nichts Flöten aus Elfenbein schnitzte
Und so tat, als wolle er Dickhäuter schützen Und streitbaren Feminismus.
Künstliche Donnerstimme deren Schwanz ragt Mechanischer Soldatengruss
Auf dass der Mann – nieder mit ihm
Schmore ob den allzu
Ungefühlten Missbräuchen.
Glied hienieden
An jeder Strassenecke In den Armen die Flops Hallo Mösen!
Fürchtet euch vor Pilz!
Habt ihr euch wohlgefühlt Auch ohne Karren
Ja ohne Ochsen gar
Und ohne Augenlicht
So nehmt 'ne Prise Wunderpulver Und seht es euch doch an
Das wüste Durcheinander.
Kein Zuckerschlecken Mit dem Latein am Ende Alles aus einem Guss Voll Kummer
Weder Fisch noch Vogel Und auch kein Has'
Die Haut ist weich
Auch mit Abszess.
Willst mehr
Willst weniger
Dann hast kein Blut
In den Händen
Bist ausser Leib
Dem seinen ihren deinen Nicht mehr ganz da bist du Hast Hundeblick.
Dann siehst du
Es tut so gut
Deinem Kummer eine Zu knallen.
Sparate!
Sparate! Impallinate per bene
mirate alle palle
mirate agli occhi
il cuore, la bocca e le orecchie
che in pieno petto questi proiettili possano dilaniare le interiora apolidi che coleranno, ferite, in popliti
un tempo amati.
Mirate l'uomo che nella spensieratezza del tempo degli altri e poi di niente tagliò dei flauti in avorio
simulando zanna di pachidermi
e femminismo combattente.
Stentore falso che rizza la coda saluto di soldato meccanico che l'uomo – abbasso
cuocia gli abusi
troppo insentiti.
Verga quaggiù
a ogni angolo di strada stringendo i flop
Salve passerine!
Tremate di beccarvi le micosi.
Se foste buoni
senza aratro
e pure senza buoi
e senza vista
prendete un po' di abracadabra aprite gli occhi
su tutto 'sto bordello.
Non è mica facile né del latino
è tutto di un blocco gonfio di dolore non è del lardo
né del coniglio
la pelle è dolce malgrado l'ascesso.
Se non ne vuoi più
se non ne vuoi meno
è che non hai più sangue dentro le mani
sei fuori dal corpo
dal suo dal tuo
non ci sei più molto
hai degli occhi di cane.
Allora vedi
fa proprio bene di darci addosso al tuo dolore.
Trat!
Trat! Cun ballins bain sentits
Mirai süls cugliuns
Mirai süls ögls
Il cour, la bocca e las uraglias
Cha quists projectils immez la patrina S-charpan la böglia sainza patria
Culond oura, ferida, in foppas dal schnuogl Ünsacura amats.
Mirai sül hom chi, illa spisseradezza Dal temp dals oters e lura da nöglia Ha intaglià flötas in avori
Imitond la defaisa dals chörs gross E feminissem cumbattant.
Stentor fint culla cua chi drizza in ot Ün salüd da sudà mecanic
Cha l'hom – per terra
Patischa dals abüs
Massa pac sentits.
Viergia giò qua
In mincha chantun da la via Serrand ils flops
Chau vo tamberls! Tremblai da sgriflar bulais.
Scha vo eschat stats bain Sainza fargun
Sainza ils bouvs perfin
E sainza vezzüda
Pigliai ün pa d'puolvra da scharlatan Rivi ils ögls
Per tuot il crom.
Quai nun es tuorta Neir latin
Quai es ün bloc inter Gross da pisser Quai nun es lard Neir cunigl
La pel es lomma Malgrà l'abscess.
Scha tü voust daplü
Scha tü voust damain
Schi esa perquai cha tü nun hast plü sang Aint in teis mans
Tü est dadour il corp
Da seis da teis
Tü nun est plü propcha là
Tü hast ögls da chan.
Lura vezzast I fa bain
Da dar adöss A teis pisser.
Shoot!
Shoot! With buckshot sharply felt
Aim for the balls
Aim for the eyes
The heart, the mouth and the ears
May these projectiles hit the chest full-on Rip stateless guts
Bleeding, wounded, in thighs Once loved.
Aim at the man who, without concern For others' time or anything else, Carved his ivory flutes
While pretending to defend pachyderms And militant feminism.
Fake Stentor whose member rises in A mechanical soldier's salute
May the man — down with him Burn with abuses
Too little felt.
Rod here below
On every street corner
Grabbing the flops
Hey twats!
Tremble with fear of catching the clap.
If you were fine Without the plough Without oxen even And without sight
Take a dose of snake oil Open your eyes
To the whole mess.
Ain't no piece of cake Ain't no Latin
All of a piece
A whale of a sorrow Neither fish
Nor satin
Such soft skin Despite the abscess.
If you don't want any more
If you want less
It's 'cause you got no more blood Inside your hands
You're out of body
Of his of yours
You're no longer really there You've got big dog eyes.
So you see
It's a good thing To wallop
Your sorrow.
Tembak!
Tembak! Dengan sasaran yang tepat Yang dibidik ke buah pelir
Yang dibidik ke mata
Ke hati, ke mulut, ke telinga.
Persis di tengah payudara harus kena rudal
Usus yang tak punya identitas kewarganegaraan dicabik-cabik Dan luka-luka mengalir di atas lutut,
Lelaki yang dulu dicintainya.
Ditujukan kepada manusia, yang tak
pedulikan waktu untuk mengurus yang lain dan juga bukan mengenai seruling gading gajah yang berukir
Dan begitu lah kejadiannya, seolah ia ingin melindungi gajah Dan bisa berdebat tentang kaum perempuan.
Suara tiruan menggelegar mirip kontol yang tegang Salam khas tentara yang mekanis
Seperti itu lah, lelaki – tertunduk dengannya Terabaikan apakah semua termasuk pelanggaran-pelanggaran yang tanpa perasaan.
Kontol di bawah sini
Pada setiap sudut jalan Terjepit dalam kemiskinan Apa kabar tempik!
Takutkah kalian dengan jamur! Bahagia kah kalian
Meskipun tanpa gerobak dorong Ya, benar-benar tanpa sapi penarik Dan tanpa pancaran mata
Ambil lah sejumput serbuk ajaib Dan lihat lah kalian pada
Padang pasir yang tumpang-tindih.
Sulit sekali
Bengong, tak mau tahu lagi Semuanya dari sebuah penuangan Perhatian penuh
Tak bisa dimaknai
Dan juga bukan kelinci
Kulit yang halus
Juga sampai luka bernanah.
Ingin lebih
Ingin sedikit
Kemudian tak punya darah
Di tangan-tangan
Di luar tubuh
Miliknya milik perempuan milik kamu Tak lagi kamu benar-benar berada di situ Memiliki loyalitas.
Dan kamu saksikan Terasa begitu nyaman Perhatianmu sebuah tamparan yang terlambat.