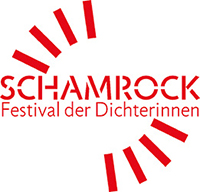 Internationale Poetry-Biennale - Filmfestival - Salon - Netzwerk
Süddeutsche Zeitung, Januar 24th 2021
Antidepressant substances
Culture lockdown, day 85: Guest contribution by Augusta Laar
The poet and musician Augusta Laar counts on poems and sounds
Augusta Laar is a writer and musician ("Art or Accident"). Since 2012 she is directing the Schamrock Festival of Female Poets in Munich and Vienna.
(Photo: Jens Mauritz)
What I like about poems is their openness, their invitation to let your mind wander, to find images, to hang out in the spaces between the words. To feel the sound and the rhythm, to walk with lines of text on your mind, to play around with them, ventilating them. Their effect as art and sound objects, their antidepressant substance, their slow breathing. Right now, I enjoy reading poems, or just individual lines, enhale them like meditations, the sound, the atmosphere, to spend the day with them.
I consider myself rich. On books. In my library there is a first edition of Gottfried Benn poems, the complete works of the recently deceased beat poets Diane Di Prima and Ruth Weiss, volumes by Anne Waldman, by Canadian, French, Italian and South American poets, Indian, Turkish, Russian poetry. A series of poets from Munich lies on the shelf, poetry from Switzerland and Austria: Elfriede Gerstl, Ilse Aichinger, Friederike Mayröcker, Rosa Pock, Margret Kreidl, and and and ...
Books by Yirgalem Fisseha from Eritrea in Tigrinyan language, collections of Ethiopian poetry and indigenous poetry. Or 30 narrow volumes that I brought back from the USA in 2019, fantastic times when we were still traveling around the globe performing: I haven't read all of them, but I keep reading in all of them. Stanzas, lines, words, and then breathlessly, entire volumes, at night when I'm not sleeping. Poems are my consolation, my soul food, my inspiration. And my work.
I survived the first lockdown creatively, finished my collection of poems "Avec Beat", listened to music, bought records, taught piano online. Keeping me alive and flexible as a poet and festival organizer. The 5th "Schamrock Festival of Women Poets" took place at the end of October 2020 in the White Box Munich, one of the few festivals happening. Such an event with 50 poets and musicians from 17 countries considering all invitations, applications and permits must be planned over two years.
My husband and partner Kalle Aldis Laar and I were happy that we were able to hold the festival at all, with a lot of technical effort and great success. For this we had to, no, we were allowed to learn to bring live performances, streamings, films and online conversations together in one big three-day event (all available at schamrock.org).
This expanded our future possibilities. Before Corona, video performances or streamed readings were more of a taboo, an emergency solution. Now it upgraded to a "real" gig. Not all artists can or want to fly around the world again, do we real have to accept the higher, further, faster? Even in the arts?
Our film festival "female presence" about female poets and musicians has to suspend, how sad. The Schamrock-Festival part in Vienna has been postponed until later this year, including our salons there, but at least none had to be cancelled. Exhibitions, on the other hand, had to be, and our DJ gigs in Munich, Berlin and Vienna are far off. Instead, we put on records at home and expand our repertoire.
Oh Vienna, second home, first place of longing, what a painful if temporary loss. A soft corona blues is slowly creeping in. I don't take the second lockdown quite as well as the first one. Maybe a poem will help?
MU 'ZI: K
(deep house mix)
the hell the
holy ride
from within
to within
explosive devices
and ears
cut off the
party bangs
down
upwards
voracious
with the guitar
the head
severed
(until the eyes
listen)