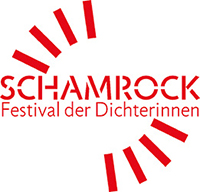 Internationale Poetry-Biennale - Filmfestival - Salon - Netzwerk

Eindrücke von der 5. Internationalen Poetry Biennale -- Schamrock-Festival der Dichterinnen, München Oktober 2020
Impressions of the 5. International Poetry Biennial -- Schamrock-Festival of Women Poets, Munich October 2020

⇒ All videos of the Festival 2020 on our video-page.


Schamrock-Festival 2020 - Rückblick
(scroll for english version)
---
"Es wird ein unwägbares Festival in turbulenten Zeiten - doch das Wichtigste ist: Es findet statt!", so die Süddeutsche Zeitung, als sie mit einem großen Interview mit den Festivalmachern das 5. Schamrock-Festival der Dichterinnen 2020 ankündigte. Das war und ist in diesen Zeiten alles andere als selbstverständlich.
"Nicht nur in Zeiten von Verunsicherung und gesellschaftlicher Veränderungen ist die Poesie ein wirksames Instrument für den Ausdruck von Emotionen und den Anstoß neuer Gedanken. Das Schamrock-Festival gibt den Lyrikerinnen eine sichtbare Bühne für die ihnen wichtigen Themen und hat sich als stabiles Netz für den internationalen Austausch etabliert" schrieb uns die Schirmherrin des Festivals, Michelle Müntefering, Staatsministerin für Internationale Kulturpolitik im Auswärtigen Amt.
Zu unserer großen Freude konnten wir trotz der schwierigen Umstände vom 23-25 Oktober unsere Veranstaltungen in der whiteBOX in München durchführen. Bis zuletzt mussten wir mit unserem Programm auf die wechselnden Entwicklungen reagieren, wir konnten dennoch alle eingeladenen Dichterinnen präsentieren. Insbesondere die Form des Festivals musste den Gegebenheiten angepasst werden. Da aus den bekannten Gründen nur wenig Publikum zugelassen werden konnte, wurde eine hybride Form gewählt, aus Bühnen-Lesungen und -Performances, Streamings und vorproduzierten Filmen, meist ergänzt mit live online geführten Gesprächen. Das gesamte Festival konnte online mitverfolgt werden.
Alle Programmteile wurden in Echtzeit zusammengestellt und moderiert, dadurch behielt das Festival seinen live-Charakter vor Ort ebenso wie am Bildschirm. "Ein irrsinniger Aufwand, der nur von denjenigen zu betreiben ist, die für ihre Kunst brennen. Das wiederum lässt sich auf beiden Kanälen spüren, auch wenn ein Live-Erlebnis durch einen Stream nicht zu ersetzen ist", so wieder die SZ.
Das live-Streaming konnte sowohl auf der Schamrock-Website verfolgt werden, wie auch auf der Schamrock Facebook Seite, diese wurde in der Festivalwoche über 26.000mal aufgerufen. Gerade auch die internationale Resonanz war für uns ebenso beeindruckend wie in dieser Dimension überraschend, wir sind überwältigt über dieses große Echo unseres Festivals weltweit ...
⇒ vollständiger Text
⇒ Süddeutsche Zeitung, Januar 2021, Antidepressive Substanzen. Gastbeitrag von Augusta Laar. Kultur-Lockdown, Tag 85: Die Autorin und Musikern setzt auf Gedichte und Töne
⇒ Presse

"It will be an imponderable festival in turbulent times - but most importantly: it will take place!", wrote the Süddeutsche Zeitung announcing the 5th Schamrock Festival of Women Poets in 2020 with a major interview with the festival organizers. That was and still is anything but normal in these times.
"Poetry is a powerful tool for expressing emotions and stimulating new thoughts, not only in times of uncertainty and social change. The Schamrock Festival offers the poets a visible stage to present the topics important to them and has established itself as a stable network for international exchange", wrote the festival's patron, Michelle Müntefering, Minister of State for International Cultural Policy in the Foreign Office.
To our great joy, we were able to hold our events in the whiteBOX in Munich from October 23-25, despite the difficult conditions. Our program had to be adjusted to the changing developments right up to the end, but we were able to present all invited poets. Notably the arrangement of the festival had to be adapted to the circumstances. Only a small audience was allowed, and we chose a hybrid form, with stage readings and performances, streaming and pre-produced films, supplemented by live online conversations.
The program was compiled and presented in real time, so the festival retained its live character on site as well as online. "A crazy effort that can only be undertaken by those who are passionate about their art. This, in turn, can be felt on both channels live and online, even if a live experience cannot be replaced by a stream" (SZ).
The live streaming could be followed both on the Schamrock website and Facebook pages, which was visited more than 26.000 times during the festival week. The international response in particular was as impressive for us as its dimension was surprising; we are overwhelmed by this great response to our festival worldwide ... ...
⇒ read the full text here
⇒ Süddeutsche Zeitung, January 2021, Antidepressive Substanzen / Antidepressant substances Culture lockdown, day 85: Guest contribution by Augusta Laar. The poet and musician Augusta Laar counts on poems and sounds ⇒ english translation
⇒ Presse