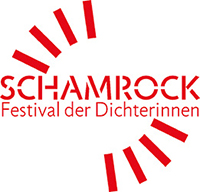 Internationale Poetry-Biennale - Filmfestival - Salon - Netzwerk

Eindrücke von der 5. Internationalen Poetry Biennale -- Schamrock-Festival der Dichterinnen, München Oktober 2020
Impressions of the 5. International Poetry Biennial -- Schamrock-Festival of Women Poets, Munich October 2020

⇒ All videos of the Festival 2020 on our video-page.


Schamrock-Festival 2020 - Editorial
(scroll for english version)
---
Das 5. Schamrock-Festival der Dichterinnen 2020 findet statt! Das ist die gute Nachricht, die das Literturportal Bayern bereits im August auf facebook gepostet hatte.
Das Festival steht unter dem Motto Einmischen – oder Poetry for Future (gestiftet von Anja Utler). Was vermag die Poesie in Zeiten der Krise? Gedichte können überzeugen, erklären, befürworten oder verteidigen, aber letztendlich geht es ihnen um Schönheit, die Kraft der Sprache, um Freiheit.
Poesie mischt sich ein, nicht indem sie uns vorschreibt, was wir zu denken haben, sondern durch die Erschaffung von Räumen, in denen unsere Imaginationen aufeinandertreffen und interagieren können. Gedichte sind Orte der Begegnung, der Belebung und der Autonomie, Schutzräume, die für alle zugänglich sind.
Die Dichtkunst hat sich längst erweiterte Präsentationsformen erschlossen und experimentiert mit Theater, Performance, Musik, Tanz, Film und digitalen Medien. Wir laden Sie ein, die weibliche Seite der Poesie in ihrer ganzen Vielfalt zu erleben. Die Gäste unserer Länderschwerpunkte, internationalen Kooperationen, Workshops und Podiumsgespräche kommen u.a. aus Eritrea, Äthiopien, Katalonien, Schottland, Japan, Österreich, der Schweiz, Hongkong, Dänemark, Grönland, Belarus und Uganda.
Angesichts der gegenwärtigen Lage haben wir eine Mischform mit Live-Veranstaltungen, Streamings und Filmen entwickelt, Live-Beiträge werden zusätzlich per Stream zugänglich sein. Einzelne Beiträge werden im Vorfeld und das Gesamtprogramm im Nachgang online präsentiert.
Das Programm zeigt den Stand zur Zeit der Drucklegung. Veranstaltungen, die live angekündigt sind, können kurzfristig zu Streaming-Veranstaltungen werden, überhaupt muss sich das Programm insgesamt einer möglicherweise veränderten Lage anpassen können.
Unser Programm wird ⇒ hier ständig aktualisiert.
Informationen zu unserer Location mit unserem Corona Konzept finden Sie ⇒ hier.
Tickets gibt es bei MünchenTicket, online oder an den Vorverkaufsstellen.
Wir bedanken uns bei über 30 Kultur- und Literaturinstitutionen aus sechzehn Ländern, die uns in unserem Vorhaben ideell und finanziell unterstützen. Dabei danken wir an erster Stelle dem Kulturreferat der Landeshauptstadt München, das den Salon und das Festival von Beginn an gefördert hat.
Genießen Sie die Fülle, die Vielfalt und die Begegnungen, live und im Streaming, und in Mischformaten. Feiern Sie mit uns zusammen, wenn auch im derzeit gebotenen Abstand, ein glanzvolles Dichtfest, die Kraft der Poesie, Poetry for Future.
Leider mussten wir aufgrund der letzten Entwicklungen den Festival-Auftakt in Wien vorläufig absagen. In Absprache mit unseren Kooperationspartnern, dem Literaturhaus Wien und der schule für dichtung wien, wird dieser Teil auf voraussichtlich im Juni 2021 verschoben.
⇒ Programm
⇒ Schamrock - Historie
⇒ Schamrock - Presse
⇒ Schamrock - Festival 2018 Rückblick
The 5th Shamrock Festival of Female Poets 2020 will take place! That is the good news the Literatur Portal Bayern posted on Facebook in August. The motto of the festival is Getting Involved - or Poetry for Future (title donated by Anja Utler). What can poetry do in times of crisis? Poems can convince, explain, advocate or defend, but ultimately they are all about beauty, the power of language, freedom.
Poetry interferes, not by telling us what to think, but by creating spaces where our imaginations can meet and interact. Poems are places of encounter, animation and autonomy, protected spaces accessible to everyone.
Poetry has opened up to expanded forms of presentation experimenting with theater, performance, music, dance, film and digital media. We invite you to experience the feminine side of poetry in all its diversity. The guests of our country focuses, international cooperations, workshops and panel discussions come from Eritrea, Ethiopia, Catalonia, Scotland, Japan, Austria, Switzerland, Hong Kong, Denmark, Greenland, Belarus and Uganda, among others.
In view of the current situation, we have adapted a hybrid form including live events, streamings and films; live contributions will also be accessible via streaming. After the festival the program will be available online.
The program shows the current status. Events that are announced live can become streaming events at short notice, and the whole program must be ready to adapt to a situation that can change any time.
Our program is constantly updated ⇒ here.
You can find information about our location with our Corona concept ⇒ here.
Tickets are available at MünchenTicket, online or at their booking offices.
We would like to thank more then 30 cultural and literary institutions from sixteen countries who support our project financially and ideally. First of all, we would like to thank the Cultural Department of the City of Munich, which has sponsored salon and festival from the start.
Enjoy the abundance, the variety and the encounters, live and in streaming, and in mixed formats. Celebrate with us, albeit at a distance currently required, a glamorous festival, the power of poetry, Poetry for Future.
Unfortunately, due to recent developments, we had to temporarily cancel the opening of the festival in Vienna. In consultation with our cooperation partners, the Literaturhaus Wien and the school for poetry Vienna, this part is postponed to June 2021.