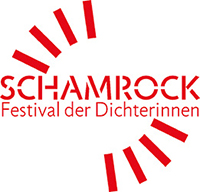 Internationale Poetry-Biennale - Filmfestival - Salon - Netzwerk
Schamrock-Festival 2020 - ... ... Rückblick
(scroll for english version)
---
... ... Dr. Lisa Jeschke von der Stiftung Lyrik Kabinett München schrieb dazu: … entgegen des Murrens im Kulturbereich in entwickelt sich hier auch Spannendes – mehr internationale Sichtbarkeit und Vernetzung, die vorher nicht so oder nur als Notlösung denkbar gewesen wäre (also z.B. Künstler:innen online zuzuschalten).
Gar nicht so wenige Dichterinnen waren bei uns vor Ort. Natürlich aus München, zu unserem Slam Poetinnen Abend kamen Meike Harms, Katrin Freiburghaus, Elisabeth Schwachulla (aka Queen Trulla), mit dem Trikont Label präsentierten wir die neue Platte von Inga, "Ihr" (Theresa Seraphin, Nora Zapf und Marie Kristin Burger) starteten das Festival, Karin Fellner (auf der Bühne) las mit unserer Villa Waldberta Stipendiatin Miriam Calleja aus Malta (coronabedingt im Stream), auch "meine drei lyrische ichs" waren international besetzt mit Michelle Steinbeck (CH), Slata Roschal (RU/M), Keith Zenga King (Uganda/M), moderiert von Tristan Marquardt.
Tang Siu Wa besuchte uns aus Honkong zu ihrer Lesung mit Anja Utler, beide beteiligten sich auch an der Podiumsdiskussion, zusammen mit Birgit Kempker (sie sprach u.a. auch zur Eröffnung) und Swantje Lichtenstein, die auch noch mit Performance und Workshop vertreten war. Aus Österreich konnte nur Irene Suchy anreisen, unsere anderen österreichischen Gäste Barbara Hundegger, Astrid Nischkauer und Ilse Kilic nahmen online teil, und Marlene Streeruwitz musste den gemeinsamen Auftritt mit Katharina Klement in letzter Minute absagen. Für diesen ja nicht unwahrscheinlichen Fall hatten sie im Auftrag des Festivals aber bereits im Vorfeld eine Filmversion ihrer "Verführung" produziert, ein live-Gespräch dazu konnte Swantje Lichtenstein vor dem Screening führen. Neben Birgit Kempker besuchte uns auch Eva-Maria Leuenberger aus der Schweiz, Zsuzsanna Gahse schickte uns ein Video.
Besondere Freude machten uns unsere internationalen Schwerpunkte und Kooperationen. An eine Reise aus Äthiopien war nicht zu denken, in Zusammenarbeit mit "Tobiya Poetic Jazz" aus Addis Abeba produzierten wir daher einen einstündigen Film, mit den Dichterinnen Misrak Terefe, Edom Baheru, Meleti Kiros, Yordanos T. Wolde und der Adey Band, mit Hilfe des Medienpartners "African Renaissance Television Services (ARTS TV)", begleitet im Live-Stream von unserer Tobiya-Kuratorin Mihret Kebede aus Wien. Zum Schwerpunkt Äthiopien gehörte auch die fulminante Performance von Christine Yohannes, sie lebt derzeit eigentlich in Nairobi, Kenia, schaltete sich aber dazu aus London, wo sie zu diesem Zeitpunkt festsaß.
Noch unbekannteres Territorium erschloss unser zweiter Afrika-Schwerpunkt Eritrea. Hier konnten wir die Dichterin und Journalistin Yirgalem Fisseha gewinnen zu Lesung und Gespräch (auf der Bühne, unterstützt durch den Übersetzer Maje Temesgen). Yirgalem war mehrere Jahre in Eritrea unter schlimmen Bedingungen inhaftiert, sie lebt derzeit in München mit einem "Artist in Exile"-Stipendium des PEN. Sie kuratierte den Focus Eritrea, mit Saba Kidane (die in Paris lebt) und Kokob Tesfaldet (in Schweden). Beide waren sowohl mit kurzen Filmen vertreten als auch online mit Gesprächen.
Lange hatten wir gehofft zu unserem Schwerpunkt Katalonien die Dichterinnen Mireia Calafell, Laia Malo, Maria Cabrera und Kurator Josep Pedrals aus Barcelona bei uns begrüßen zu können. Stattdessen wurden von unserem Partner, dem katalanischen Kulturinstitut Ramon Llull, mehrere Filme mit den Dichterinnen produziert, jeweils eingeführt von Josep Pedrals. Unser Übersetzer Àxel Sanjosé moderierte von der Bühne aus und führte im Anschluss an die Filme vertiefende Gespräche mit den Poetinnen, wieder im Live-Stream. Für die ausgezeichnete Zusammenarbeit bedanken wir uns herzlich bei Silvia Gonzalez.
Mit Streaming waren auch Maja Lee Langvad aus Kopenhagen und Jessie Kleemann aus Nuuk auf der Insel Grönland zugeschaltet, eigens Filme produzierten Indrė Valantinaitė (in Litauen) und Phoebe Power (in York, England), beide waren auch online live mit dabei. Besonders am Herzen lag uns wieder die Kooperation mit den "Heroines of Sound", Antye Greie-Ripatti (aka AGF) vertrat dieses wunderbare Berliner Festival mit einer ebenfalls von Schamrock in Auftrag gegebenen beeindruckenden Videoarbeit "I insist to remember".
Und nicht zuletzt konnte auch die Schamrock-Produktion "Planet 9 - Short-cuts nach Texten von Augusta Laar" nach der Uraufführung in Bamberg im Jahr zuvor in einer neuen Fassung gezeigt werden, mit Kompositionen von Helga Pogatschar und "Kunst oder Unfall" mit Augusta & Kalle Aldis Laar an verschiedenen Klangerzeugern und Miku Nishimoto-Neubert am Flügel. Kurzfristig konnten wir noch Volha Hapeyeva aus Belarus ins Festivalprogramm einladen, einzig Nancy Campbell musste uns noch am Flughafen in Heathrow krankheitsbedingt absagen. Und der geplante Festival-Auftakt in Wien ließ sich nicht zum geplanten Zeitpunkt realisieren, zusammen mit dem Literaturhaus Wien und der schule für dichtung Wien wurde dieser Teil auf Sommer 2021 verschoben.
Ohne unser großartiges technisches Team wäre der Erfolg des Festivals nicht möglich gewesen. Wir bedanken uns herzlich bei René Greiner und seiner Produktionsfirma video4net.de, mit Andreas Friedrich verantwortlich für die Live-Filmregie und den Internet Stream, bei Moritz Kroeger (area-sound.de) für die Tonregie und Andreas Reinalter für Licht und technischen Support, und Chris Schinke für die hervorragende facebook-Betreuung.
Das Festival fand zum zweiten Mal statt in bester Kooperation mit der whiteBOX.art, unser Dank gilt hier Martina Taubenberger und Valerie Erben. Wir danken allen Teilnehmer:innen für Ihre Mitwirkung und die große Unterstützung des Festivals. Wir freuen uns sehr, dass unser Festival Format bei ihnen wie auch beim Publikum so gut angekommen ist. Die Mischung aus Streamings, Gesprächen, Videos und Live Performances konnten einen mehrdimensionalen Eindruck lebendiger und kraftvoller Dichtung vermitteln. "Einmischen oder Poetry for Future" konnte in diesen nicht nur durch die Pandemie erschwerten Zeiten ein hoffnungsvolles Zeichen setzen.
Birgit Kempker schrieb uns dazu:" ... das Festival war dieses Jahr sehr besonders für mich, einmal natürlich, weil wir wenige waren, die gut auf sich und aufeinander aufpassten. Es gab so eine sehr warme intime Stimmung von Solidarität und Hoffnung. Sehr berührend fand ich, wie die live gestreamten Dichterinnen die Resonanz in München wahrgenommen haben, einmal das Klatschen, aber auch vermutlich anders. Resonanz ist ja eine magische Sache auch. Es war wichtig, da zu sein, live, und es war für die, die es nicht konnten, auch wichtig, in anderen Formen wie Livestream, vorproduziertes Video dabei zu sein. Niemand ging verloren … "
Von Anfang an wurde das Schamrock-Festival unterstützt vom Kulturreferat der Landeshauptstadt München. Zu unseren weiteren Förderern und Kooperationspartnern gehörten die Kulturstiftung der Stadtsparkasse München, das Auswärtige Amt der Bundesrepublik Deutschland, die Schweizerische Kulturstiftung Pro Helvetia, das Staatsministerium für Wissenschaft, Forschung und Kunst Bayern, Neustart Kultur des Deutschen Literaturfonds, Danish Arts Foundation, das Österreichische Kulturforum Berlin, die Grazer Autorinnen Autorenversammlung, die vollständige Support-Liste ist auf unserer Website.

Dr. Lisa Jeschke from the Munich Lyrik Kabinett Foundation wrote: "... contrary to the grumbling in the cultural scene about the impossibility of "live events" as usual, exciting things are developing here - more international visibility and networking, as for instance streaming has been seen only as a workaround until now".
More than a few poets were with us on stage. Of course, from Munich: Meike Harms, Katrin Freiburghaus, Elisabeth Schwachulla (aka Queen Trulla) came to our Slam Poetry part, in cooperation with the Trikont label we presented the new record by Inga, the performance group "Ihr" got the festival started (Theresa Seraphin, Nora Zapf and Marie Kristin Burger). Karin Fellner (on stage) read with our Villa Waldberta scholarship holder Miriam Calleja from Malta (due to corona via stream), also "meine drei lyrischen ichs" or "my three lyrical selves" had an international cast with Michelle Steinbeck (CH), Slata Roschal (RU/M), Keith Zenga King (Uganda/M), presented by Tristan Marquardt.
Tang Siu Wa visited us from Hong Kong for her reading with Anja Utler, both also took part in the panel discussion, together with Birgit Kempker (she also spoke at the opening) and Swantje Lichtenstein, who was also represented with a performance and workshop. From Austria, only Irene Suchy could attend, our other Austrian guests Barbara Hundegger, Astrid Nischkauer and Ilse Kilic took part online, Marlene Streeruwitz had to cancel the joint appearance with Katharina Klement at the last minute. However, anticipating the travel difficulties they had already produced a film version of their "Verführung" on behalf of the festival in advance, and Swantje Lichtenstein was able to talk to Marlene Streeruwitz live before the screening. In addition to Birgit Kempker, Eva-Maria Leuenberger from Switzerland also visited us, while Zsuzsanna Gahse sent us a video.
We were particularly pleased with our international focuses and collaborations. A trip from Ethiopia was out of the question, so in collaboration with "Tobiya Poetic Jazz" from Addis Ababa we had an one-hour film produced with the poets Misrak Terefe, Edom Baheru, Meleti Kiros, Yordanos T. Wolde and the Adey Band, supported by our media partner "African Renaissance Television Services (ARTS TV)", and accompanied online by our Tobiya curator Mihret Kebede from Vienna. The focus on Ethiopia also included the brilliant performance by Christine Yohannes, she currently lives in Nairobi, Kenya, but switched from London, where she was stuck at the time.
Our second Africa focus Eritrea opened up even more unknown territory. Here we were able to win the poet and journalist Yirgalem Fisseha for reading and discussion (on stage, supported by translator Maje Temesgen). Yirgalem was imprisoned in Eritrea under dire conditions for several years. She currently lives in Munich on an "Artist in Exile" grant from the PEN. Festival Focus Eritrea was curated by her, she introduced us to Saba Kidane (who lives in Paris) and Kokob Tesfaldet (in Sweden). Both were represented with short films and online conversations.
We had hoped to welcome the poets Mireia Calafell, Laia Malo, Maria Cabrera and curator Josep Pedrals from Barcelona to our focus on Catalonia. Instead, our partner, the Catalan cultural institute Ramon Llull, produced several films with the poets, each introduced by Josep Pedrals. Our translator Àxel Sanjosé presented on stage and, after each film, conducted in-depth discussions with the poets. We would like to thank Silvia Gonzalez for the excellent cooperation.
Maja Lee Langvad from Copenhagen and Jessie Kleemann from Nuuk on the island of Greenland were also involved via streams, while Indrė Valantinaitė (from Lithuania) and Phoebe Power (York, England) produced films, both of which were also with us online as well. The ongoing cooperation with the "Heroines of Sound" was particularly close to our hearts. Antye Greie-Ripatti (aka AGF) represented this wonderful and important Berlin festival with her impressive video work "I insist to remember", also commissioned by Schamrock.
And last but not least, the Schamrock production "Planet 9 - Short-cuts based on texts by Augusta Laar" was staged in an updated version after its premiere in Bamberg the year before, with compositions by Helga Pogatschar and "Kunst oder Unfall" or "Art or Accident" with Augusta & Kalle Aldis Laar on various sound generators and Miku Nishimoto-Neubert on grand piano.

At short notice we were able to invite Volha Hapeyeva from Belarus to the festival program, only Nancy Campbell had to cancel due to illness, calling from Heathrow airport. The usual festival-start in Vienna could not be realized at the planned time, together with our partners, the Literaturhaus Wien and the school for poetry Vienna this part had to be postponed to summer 2021.
The success of the festival would not have been possible without our great technical team. We would like to thank René Greiner and his production company video4net.de, with Andreas Friedrich responsible for live editing and internet streaming, sound-engineer Moritz Kroeger (area-sound.de), Andreas Reinalter for technical support, and Chris Schinke for the excellent facebook management.
The festival took place for the second time in the best possible way in collaboration with whiteBOX.art, our thanks go to Martina Taubenberger and Valerie Erben. We would like to thank all participants for their cooperation and the great support of the festival. We are very happy that our festival format was so well received by artists and audience alike. By mixing streaming, conversations, videos and live performances we were able to convey a multidimensional impression of vital and powerful poetry. "Getting involved or Poetry for Future" sent out a sign of hope in these weary times, not only due to the pandemic.
Birgit Kempker remarked: "The festival was very special for me this year, once of course because we were few who took good care of ourselves and each other. There was such a very warm intimate mood of solidarity and hope. I found it very touching how the live streamed female poets perceived the response in Munich, the clapping, but also probably on different levels too. Resonance is such a magical experience. It was important to be there, live, and it was also important for those who couldn't, to be there in other forms such as livestream, or pre-produced videos. No-one was left behind ..."
From the beginning the Schamrock Festival was supported by the cultural department of Munich. Other sponsors and cooperation partners included the Kulturstiftung der Stadtsparkasse München, the Foreign Office of the Federal Republic of Germany, the Swiss Cultural Foundation Pro Helvetia, the Bavarian State Ministry for Science, Research and the Arts, Neustart Kultur of the German Literature Fund, Danish Arts Foundation, and the Austrian Cultural Forum Berlin , the Grazer Authors Assembly, the full support list can be found on our website.