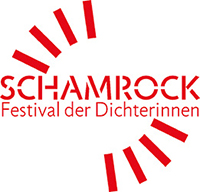 Internationale Poetry-Biennale - Filmfestival - Salon - Netzwerk
Schamrock international: ⇒ Kritya, India ⇒ Bratislava, Slovakia ⇒ Medellín, Colombia ⇒ Istanbul, Turkey ⇒ Ledbury Poetry ⇒ Versopolis 2020 ⇒ Versopolis 2021
---
Schamrock-Festival at the virtual Versopolis "Festival of Hope" 2020
In early 2020 the European Poetry Platform Versopolis announced its virtual poetry "Festival of Hope" and invited international festivals and literary organisations to participate. More then 60 organisations announced to be part of that great effort.
On April 29th, Schamrock Poetry and Schamrock-Festival of Women Poets presented their contributions on the Versopolis platform.
Schamrock has been planning the October 2020 issue of its International Poetry Biennial - Schamrock-Festival of Women Poets when the Corona virus crisis interfered. The festival was held October 23rd to 25th in Munich, Germany, with its traditional prelude in Vienna, Austria postponed to 2021.
For the Versopois platform we chose four poets that are invited for the 5. Schamrock-Festival of Women Poets 2020: Miriam Calleja (Malta), Lisa Jeschke (Germany), Phoebe Power (England) and Nora Zapf (Germany). In addition we present excerpts from two legendary performances at previous festival issues, Anne Waldman in 2018, and Lydia Lunch in 2016. And last but not least we show a clip of the performance of Kunst oder Unfall / Art or Accident with Brooklyn Ballet in New York 2019, this collaboration with choregrapher and founding director of the Ballet, Lynn Parkerson, started at the festival in 2018.
Upcoming at the Internatinal Poetry Biennial - Schamrock-Festival of Women Poets - October 2020 Munich, Germany
Miriam Calleja, Malta - Schamrock-Festival of Women Poets October 2020
Lisa Jeschke, Germany - Schamrock-Festival of Women Poets October 2020
Phoebe Power, England - Schamrock-Festival of Women Poets October 2020
Nora Zapf, Germany - Schamrock-Festival of Women Poets October 2020
Highlights Schamrock-Festivals of Women Poets 2016 and 2018
Lydia Lunch, USA - Schamrock-Festival of Women Poets 2016
Anne Waldman, USA - Schamrock-Festival of Women Poets 2018
Schamrock Poetry and Brooklyn Ballet 2019 at the Mark O'Donnell Theatre NYC
Kunst oder Unfall / Augusta Laar & Kalle Aldis Laar with special guest Abbie Conant (trombone) - Brooklyn Ballet - Lynn Parkerson (founding director, choreography, dance), company members Michael "Big Mike" Fields, Christine Sawyer