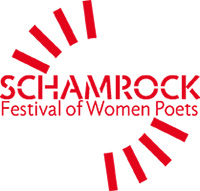 International Poetry-Biennial - Filmfestival - Salon - Network
Schamrock international: ⇒ Kritya, India ⇒ Bratislava, Slovakia ⇒ Medellín, Colombia ⇒ Istanbul, Turkey ⇒ Ledbury Poetry ⇒ Versopolis 2020 ⇒ Versopolis 2021
---
Schamrock at the 26. FESTIVAL INTERNACIONAL DE POESÍA DE MEDELLÍN 2016

Augusta and Kalle Aldis Laar were guests at the largest Poetry Festival worldwide, presenting readings, concerts and workshops. Augusta Laar was the representative of the schule für dichtung wien | vienna poetry school, which contributed to the foundation of the Escuela de Poesía Medellín. She also represented the Schamrock-Festival of Women Poets.
The Festival de Poesía de Medellin is a significant cultural and political event in Colombiea and abroad, honoured with the alternative Nobel Prize in 2006. No wonder Medellín is called the "World Capital of Poetry". Poetry in Colombia is an major social factor, and for one week Medellín hosted its greatest celebration.

Closing event with 80 poets from all over the world and more then 5000 visitors

Kunst oder Unfall/ Art of Accident at the Teatro Pablo Tobón Uribe
---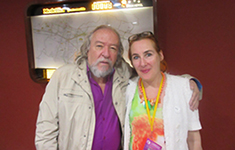 The Medellín festival is also a meeting opportunity for international festival directors, it led to the foundation of the World Poetry Movement in 2006.
Augusta Laar with Fernando Rendón, legendary poet, founder and director of the festival.
⇒ La poesía, la música y el perro lírico. Por Augusta Laar. Especial para Prometeo, traducción de León Blanco (Festival text)
--- Film about the festival: THE TRANSFORMATION OF A DRUG CAPITAL: THE MEDELLÍN POETRY FESTIVAL. How the Medellín International Poetry Festival helped transform a troubled city into a world capital of poetry.

www.festivaldepoesiademedellin.org
---
see me – hear me. city street life poetry.
Vienna Poetry School class as part of the 20. Escuela Internacional de Poesía de Medellín with Augusta & Kalle Laar ⇒ more - sfd

---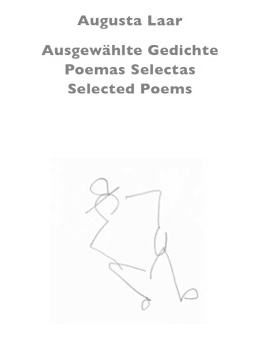 On occasion of the festival:
Augusta Laar, Ausgewählte Gedichte - Poemas Selectas - Selected Poems
20 Gedichte german - spanish, parts in englisch, turkish and chinese
Spanish translation by José Luis Reina Palazón,
English translation by Ingrid Fichtner and Kalle Aldis Laar.
60 pages, 10 drawings
©2016